This weekend was a bit of a bustle.
I had a friend's holiday open house on Saturday — in Black Diamond, almost three hours away! — so I combined that with a work visit to SeaTac and a visit to Mom and Dad.
Living out here has required some adjustments. To avoid missing out, I have to commit to doing things in spite of the drive; to avoid killing myself, I have to be sensible about minimizing trips.
It worked out well. I had a nice little visit with Mom and Dad, including a nice walk down to Titlow Park before heading to the open house on Saturday.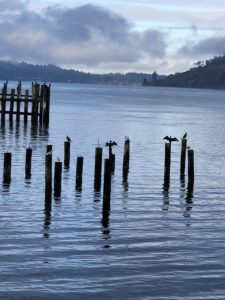 Here, cormorants hang out their wings to dry. Unlike most shore birds, they don't have oil to keep their feathers dry.