When we bought our house in Port Angeles, it came with a sweet old barn cat named Vinnie.
I was a bit dubious, already having two indoor/outdoor cats, but it has worked out just fine. Except for the guilt aspect.
It doesn't get insanely cold here, but it does dip below freezing now and again. When it does, Vinnie retreats from his normal bed on the porch to a warmer nook below the house. Even so, I feel bad.
Unfortunately he sprays, so bringing him inside isn't an option.
Enter: the heated pet bed.
Rob ordered it for Vinnie a few days ago, and we introduced him to it last night. He may not leave it for the rest of the winter, except for food and pets.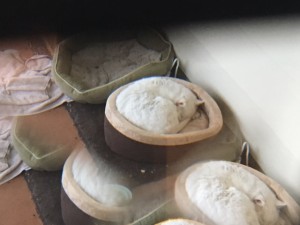 This picture is through the stained glass on our door (hence the multiplicity of cats). If I go outside he'll promptly hop out of bed and ask for a good petting – ruining the photo op.