A fourth hard freeze in a row, without an intervening thaw, has our landscape covered by delicate ice crystals. Each day they get a little bigger.
Today, for the first time, I felt that a sense of scale was needed.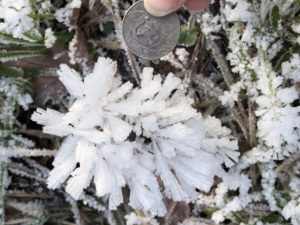 This is not false scale. The ice crystals really are that big — although admittedly these were some of the largest in the landscape.
They grow very differently on different surfaces, which makes for some neat contrasts.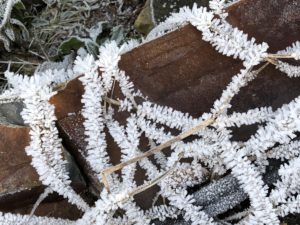 It is also fun to observe day-to-day changes.
Here is the day three comfrey frost versus the day four comfrey frost.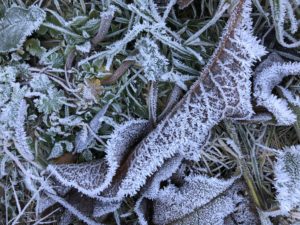 In principle they are the same, but all the ice crystals are just a little bigger, a little more compounded.
I am enjoying the frost, but I'm also looking forward to the thaw we're expecting tomorrow afternoon. The layer of ice and the cold are hard on the wildlife.
I put the hummingbird feeder back out on day 2, and two hummingbirds are still around. I had to thaw the feeder out mid-morning today, which gives some sense of just how frigid it is, given that hummer water is usually good down to 27-28F.
Soon it will be back to rain.