I was fortunate enough to see the eclipse totality yesterday. If you just want a descriptive sense of what the totality was like, go here.
My parents and I watched it from John Day National Monument in eastern Oregon. The park service had mown a field to accommodate all the visitors.
Fortunately for us, people didn't hear about the parking area, or presumed it was full — there were a couple hundred cars in a field that could have held twenty times as many.
The Eclipse
Without the eclipse glasses, we wouldn't have been able to tell anything was going on until the sun was 3/4 covered. At that point it got a little dim, as if there were a high haze.
I honestly don't think that I would have remarked it until the sun was about 90% covered. At that point the whole landscape started to dim into twilight, and there was a little nip to the air.
At 98% it was notably twilight, but you still wouldn't have been able to directly see what was going on with the sun — without the eclipse glasses.
Though the glasses we watched a fine sickle reduce to a line, then a dot.
Then….
Gone.
The Totality
This is the sight the has stopped wars and ended reigns.
It is truly amazing.
The whole sky was a deep twilight, but not black.
There was the blackest of black circles where the sun should have been, with a streaming pale halo wisping off in all directions.
All around it was a deep twilight, but there was a band of pale light around the horizon — as if dawn would be coming in another half hour or so.
The otherworldly look lasted about two minutes for us — then the light started beading at the edge.
And the light returned.
The Totality: Impressionistic
Go here for a more evocative description.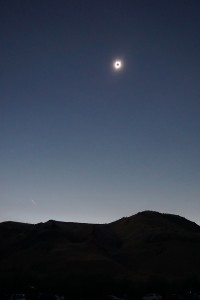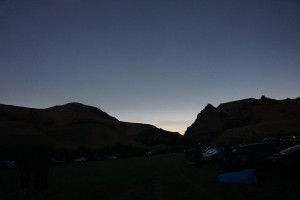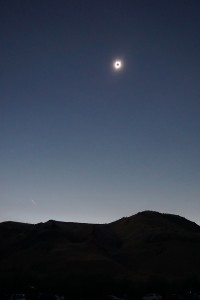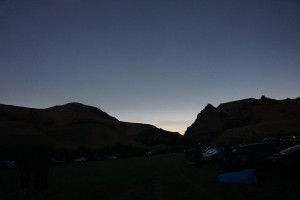 Comment on Eclipse Photos
There are much better photos of the eclipse itself — but I wanted to note that even the best of the eclipse photos don't truly capture what I saw.
In even the best eclipse photos, the surrounding sky is too dark (often completely black), and the light is too bright and crisp-looking.
I think the issue is that the corona is too bright relative to the rest of the light.
I hope you get to see a totality in person some day, because as with so many things in life, the photos don't do it justice.