The fence is done, and has been for a while.
From getting the corners done to getting the fence completed took about a month. We had to cross-lash the H braces, string the wire, and install a gate.
Once we figured out the process, it took about 15 minutes for each electric wire, and a bit less for each ground wire. I'd rather not compute how much time that required, considering that there were four sides, seven wires per side.
It looks good, and although it isn't cougar proof, it is a lot better than what we had.
It's rather comical to look at the old and new next to each other.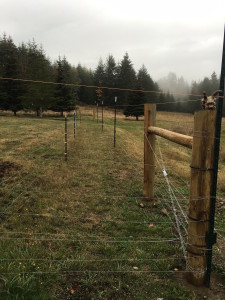 Having gotten the fence squared away, we were able to get a new girl. Her name is Teela, and she is another Nigerian Dwarf — probably with a bit of Pygmy in there.
Nob spent a couple weeks bossing her around — he's bigger — but she has some spunk, and she has horns. Now she ranks him, and 8-Bit ignores her (except when there's food involved), so she has it pretty good.
She's a sweet goat, and fits in very well.
Hopefully that will be the end of our cougar woes.
It is a risk still — the fence is cougar resistant, not cougar proof — but the only realistic alternative would be to rehome our goats. That wouldn't have been hard with Nob, but 8-Bit would have been a job and a half.
Now we just have to wait and hope. It was a year and a half before we lost Bell, so it will be a while before we can be confident in our lovely new fence.