Happy first day of spring!
I like all the seasons, but I especially love the burgeoning life of spring.
Those first dainty crocuses and daffodils are as welcome to me as a garden full of roses.
Spring is actually well underway – unseasonably so – here in Port Angeles.
Our plum trees are all in bloom, and the cherries will be joining in the fun within the next week or two.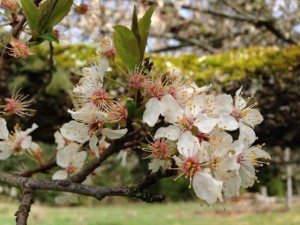 I have been hard at work getting a garden set up, since this is our first spring in our new/old house.
There was a garden here before. We started out by digging flagstones out of their layering of sod. A previous owner had used them to divide the flower beds, and we decided they were far too good to just bury with the load of topsoil we had ordered — and so the hard labor began!
And then the bulbs started coming up, the last remnant of the old garden that had survived a decade or more of neglect and mowing.
Irises, daffodils, and grape hyacinths – and of course I had to save a selection, in case there was anything special!
I get carried away with such projects, but I find it very therapeutic working outside, grubbing in the dirt.
It has been a welcome therapy, since work has been crazy, compounded by wedding planning and other adult pressures. Ah, tax season!
This last week or so the garden has really started coming together. The first bed is pretty well done, and I have been planting seeds like mad.
When I went through this process in Seattle, I stuck in a bunch of perennials right away, but without time to plan. This time around I think I'll go primarily with annuals the first year, to give myself a chance to plan out the garden a little more thoroughly – while still having color this summer!
I find the nursery seed section far too seductive. At this point we have about two dozen packets of seeds, which in combination would probably cover 10,000 square feet of garden.
But how can I resist them?
The packets are lovely, the plants they will grow are lovely, and when else can you put a funny-shaped rock into the ground and expect a green thing to sprout? Magic!