Spring officially arrived two weeks ago, and is progressing nicely here in Port Angeles.
A couple days ago I saw a couple elk bulls grazing their way through the neighbor's field. I haven't seen them since, so they were probably on their way up the mountain to their summer territory.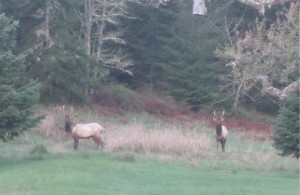 The daffodils are in full bloom, and my sugar-snaps are looking good.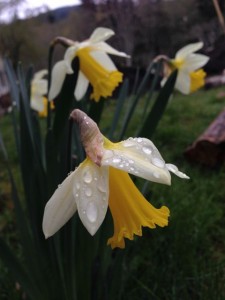 The big question is whether I can keep the garden safe from the deer. I have rigged a fence out of fishing line – the goal being to (mostly) keep the deer out, without being too ugly. We're going to supplement that rather frail defense with a motion-detector sprinkler system. Fingers crossed that it will work!
Gardening is a bit like writing in that you sow and weed and dig, in hopes that in a few months or a few years it will pay off. Many small efforts are necessary to get the bountiful harvest.
The big difference is that a garden will change if you neglect it for weeks or months. With luck, it will grow. Or perhaps it will wither or get eaten. But it will not be static.
A story, if neglected, will just sit there. It will not change. You, the author, will change – which is why a resting period can be very helpful. But the story will wait quietly for your return.
That is both good and bad. Without attention, nothing will happen. But it is never too late!
I am gearing up for another round of revisions on Joining the Draken. I have gotten some very helpful critiques from some of my Viable Paradise cohort, among other brave souls.
The critiques confirmed that I need to ratchet up the tension and conflict. I'm hoping that I can manage it by judiciously sowing a few seeds, doing a bit of pruning, and staking up the droopy bits.
Hopefully by June I will have a burgeoning garden and a book that is ripe for submission!